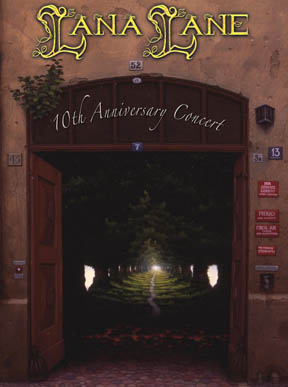 Lana Lane: 10th Anniversary Concert
2-hour DVD contains the complete final concert from the 10th Anniversary Tour recorded in Tokyo, 30 June 2005, along with a Video Tour Diary and 78-min bonus audio CD. USA version. NTSC, all regions.
After 10 years of recording CDs, Lana Lane proudly releases her 10th Anniversary Concert DVD containing the full concert from her final show in Tokyo on the Lana Lane 10th Anniversary Tour. Recorded on June 30, 2005, The 2-hour dual layer "DVD-9" disc contains all 19 songs from the concert along with a Video Tour Diary containing candid "behind-the-scenes" footage of the entire tour from Europe to the USA to Japan. Both stereo and the wonderful sounding DTS 5.1 surround audio tracks are offered. The DVD is released worldwide in NTSC format in Region 0, to ensure maximum compatibility. The 10th Anniversary Concert package also includes a bonus 78:54 audio CD that contains most of the concert.
USA – $10.00 plus $6.00 Shipping
Total: $16.00

---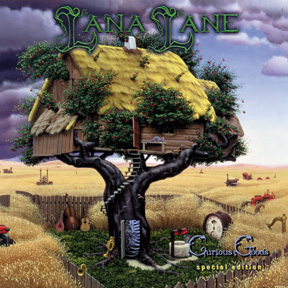 Lana Lane: Curious Goods (2002 version)
Lana's 2nd studio album. USA double CD. originally released in 1996 – this edition released in 2002.
This deluxe reissue of Lana's second album includes a full color 16-page booklet with new, extensive liner notes by producer Erik Norlander and is packaged in a Slimline 2CD jewel box. Curious Goods was originally released in 1996 in Japan only. The album tracks have been thoroughly reworked for this new issue. Lana re-recorded ALL of her vocals on the album in early 2002 which allowed her to reinterpret the songs with the delivery a more mature artist. Producer Erik Norlander has also undertaken an extensive remix of the whole record using the most state-of-the-art modern hard disk recording tools. The album was also necessarily remastered by Norlander following the remix. The result is a much more crisp and precise sound. The CURIOUS GOODS SPECIAL EDTION also contains a new bonus track, the James Bond theme "You Only Live Twice", recorded with Vinny Appice, Don Schiff and Mark McCrite during the 'Project Shangri-La' sessions. The CURIOUS GOODS SPECIAL EDITION is a double CD. Disc One contains the new 2002 enhanced version, and Disc Two contains the original 1996 version, left intact and untouched.
USA – $10.00 plus $2.50 Shipping
Total: $12.50

---